Meet Executive Chef Patrick LeBeau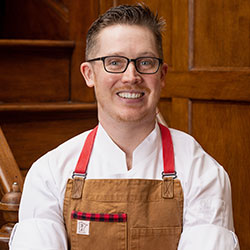 Originally from Rochester, NY, Chef LeBeau's love of cooking started at a young age, spending countless summers watching his grandfather cook. Ironically, the grandfather he never met was a butcher at his local grocery store his entire career; and to this LeBeau says food is in his blood. After working in kitchens for most of his young adult life, he attended the Culinary Institute of America in Hyde Park, NY where he graduated with a bachelor's degree in Culinary Arts in 2012.
Prior to joining Bambara, LeBeau served as chef de cuisine at the 800-room Loews Hotel Kansas City, MO from March 2020, where he oversaw the restaurant operations and menu development for four F&B outlets. Before his move to Kansas City, LeBeau lived in Chicago for over six years where he served as sous chef, and later, chef de cuisine, at NoMI Kitchen, Park Hyatt, under Executive Chef Ed Sura. Here, he honed in on his charcuterie skills; mastering the process of curing meats and pickling. In 2018, LeBeau worked as a research and development chef for Home Chef in Chicago, where he worked on developing 18 recipes per week, tracking nutritional values, menu analysis and staying on top of food trends.
LeBeau's philosophy when it comes to creating menus and recipes is to let the ingredients speak for themselves and to not overcomplicate the food. He strives to provide the best products using what's in season and local to the region, served in an approachable yet interesting way using a variety of flavor profiles.
In August 2022, he was named executive chef of Bambara at the Kimpton Hotel Monaco Salt Lake City, bringing his extensive breadth of knowledge and experience into the kitchen. When he's not at work, LeBeau can be found exploring new hiking trails with his girlfriend and Corgi, scoping out breweries in town, golfing, and spending time in nature.